BGC Rhythmic Gymnastics
 
Rhythmic Gymnastics is a beautiful Olympic Sport. It promotes strength, balance, coordination, endurance and fitness all of which is encompassed into a floor routine. All routines are choreographed and performed to music. At its highest level, it combines athleticism with artistry into a beautiful performance that captivates everyone.
Gymnasts perform with hand apparatus such as rope, ball, hoop, club and ribbon on 13m x 13m carpeted floor area. The code of Points, outlining required and permitted elements, is issued by the Federation of International Gymnastics.

Recreational programs provide a fun activity that
combines creative and musical expression with physical activity. Some gymnasts may find rhythmic gymnastics to be their destiny. Some may use the flexibility and confidence they gained through these programs to pursue their own personal dreams. Regardless, rhythmic gymnastics is a great start for an exciting future.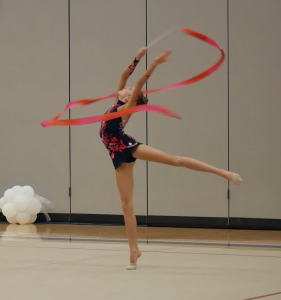 Rhythmic gymnastics performed at the competitive level is a dynamic and compelling sport for girls. At its best, it requires top athletic development, yet the resulting performance appears effortless.
The Rhythmic Competitive Program is 'by invitation of coaches only'. Girls are auditioned for flexibility, strength, grace and coordination in order to gain a spot in this program. Training hours range from 6-25 hours per week depending on age, level and program. A high level of commitment is required of the gymnast and of their family who assist with club events through mandatory volunteer participation hours and fund raising.
Check out this video from our Christmas show!
Contacts
Rhythmic Gymnastics – Lyuda Kovtun
lkovtun@bgcgym.com